Tempcover believe that recently being named as winners in the Best Use of CRM category in the 2021 Global Digital Excellence Awards is an endorsement from our industry peers that our data-driven approach to marketing is making a real difference to enhancing customer relationships.
So, what makes the Tempcover CRM programme stand out from similar initiatives?
Tempcover specialises in short-term motor insurance – a needs-based product with rapid, in-the-moment transactions. It is therefore essential to remain front-of-mind and to be in the right place at the right time when a customer requires cover at short notice.
We therefore launched a data-driven CRM programme to develop a more intimate knowledge of our customers and their unique needs by building engagement and longer-term relationships, and by recognising loyalty amongst customers who choose to repeat purchase. Our 600,000-strong contact database formed the basis of our target audience and was segmented into seven addressable audience segments based on need and propensity to purchase.
Each targeted audience segment received bespoke content and differing rewards/discount levels depending on previous purchase history and source of business. Our agility enabled us to utilise off-the-shelf email technologies to get a quick start – aligning this into our segmentation and internal analytics capability. SMS communication was introduced and quickly gained measurable traction, now accounting for 70% of CRM sales, which is an industry-leading achievement.
The final stage of our programme was to build our own proprietary discount tool that targets individual segments within predefined customer engagement campaigns – connecting data across our marketing and 'quote-and-buy' platforms. This enabled greater personalisation and control which in turn allowed us to actively test price sensitivity to enable discount optimisation.
Our CRM programme now enables us to recognise different need states of one-off usage vs. high repeat multiple usage. For example, a student taking out a one-hour policy to borrow their parent's car, vs. a trade professional who experiences seasonal peaks and troughs in demand for business and is regularly required to add and remove named temporary drivers of the company van.
To accommodate that raft of need, customers receive weekly light-touch SMS and email content relating to the various needs and situations where temporary insurance has a role to play that is relevant to them. The content features a straight-through journey to purchase – with the discount already applied to ensure ease and simplicity throughout the entire customer journey.
We reward our repeat customers with preferential offers and make it as easy as possible for them to redeem. To maintain the highest standards of integrity and to differentiate ourselves from traditional retail promotions, we give 100% of the offer to customers and remove all barriers for them so that they can redeem at the checkout – no promo codes or other gimmicks.
Through our CRM programme, we have successfully engaged customers through new communication channels that were previously unavailable and have rewarded our most loyal customers with our most competitive prices. This has enabled us to reduce our reliance on paid channels and to increase revenue from owned channels. Using data-driven marketing, our brand has been utilised to significantly increase repeat purchase rates.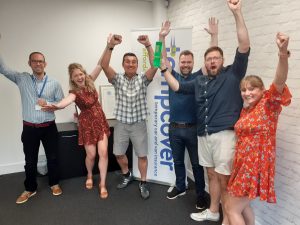 Tempcover specialises in short-term car, van, motorbike, student, and learner insurance – having sold more than 3.9-million policies since 2006. We enable drivers aged 18-75 with full UK, provisional and EU licences to purchase temporary fully-comprehensive coverage from as little as 1-hour to 28-days in duration. Our short-term policies offer truly flexible cover for the time drivers actually need – with no long-term commitment or auto-renewals. Our temporary cover does not impact other annual policies or no claims discounts, as it is a separate, standalone policy.
Author: Mike Greenshields, Head of PR & Content, Tempcover