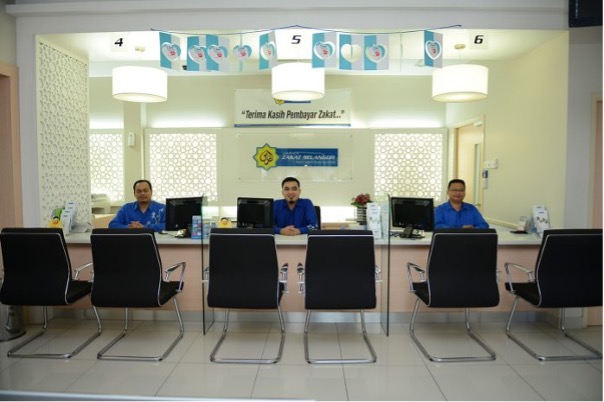 Lembaga Zakat Selangor (LZS) is a leading zakat institution in Malaysia, responsible for administration and management of the zakat collection and disbursement in Selangor state, in ensuring the needs of the asnaf are addressed effectively and efficiently.  Zakat is one of key instruments in Islamic social finance which has been instrumental in the alleviation of poverty and socio-economic development for over 1,400 years.  Zakat are used to provide social welfare provisions for the poor and destitute including financial, housing, quality education and general wellbeing and healthcare. All of these are very much align to the sustainable development goals set by UN General Assembly in 2015.
LZS digital journey has started since 2015. The notable impact of COVID -19 to social and global economy requiring businesses to adjust their business model, shifting their brick-and mortar businesses to an online platform, exploring and advancing into e-Commerce and e-Hailing. LZS recognized the needs to accelerate our digital journey, to enable our business to continue operating, stay relevant to the current market and customer needs, as well as maximizing its potential. Hence, the initiation of Zakat Cashless. LZS digital journey has started since 2015 and like all other businesses that has been affected by the pandemic, LZS recognized the needs to accelerate our digital journey, to enable our business to continue operating, stay relevant to the current market and customer needs, as well as maximizing its potential.
Zakat Cashless project is one of the initiative to support LZS long term digitalization strategy and roadmap. The project was initiated in January 2021, with the objectives to minimize cash transaction, reduce cash-in-transit (CIT) cost and eliminate manual processing. The project scope covered; cashless payment and distribution and auto FPX payment processing. The project led by LZS and impacted external stakeholders such as zakat payers, receivers and identified suppliers.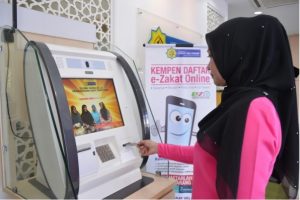 LZS used Service Delivery Model (SDM) as overarching framework in implementing the project. The model emphasize on delivering excellence services, which incorporate; (i) service efficiency guided by the seven core values of LZS, (ii) compliance to service standards and practices; and (iii) customer engagement and experience. Three (3) main strategies used in designing the solution are; digitally enabled services, cost-efficiency through automation and digital distribution channels.
Digitally enabled services – Zakat cashless project introduced cashless method of payment where customer can make zakat payment via direct debit, credit card, e-Wallets and online bank transfer. This enable customer to make payment without having to visit the branch and payment can be made at their convenience. Acknowledging that LZS have diversified background of customers, a digital kiosk has been established at all branches to cater for our walk-in customers.
Digital distribution channel – Zakat cashless project explored alternative zakat distribution channel via digital method. One specific aids that we were focusing on as part of this project scope was aids distribution for school needs of asnaf families. Just by producing their identification card at LZS's selected vendor, the asnaf families were able to purchase the school needs of their children without needing cash-in-hand.
Cost-efficiency through automation – Zakat cashless project enabled automation of back-end processing of the payment received via FPX through development of seamless programming. The program was designed and developed to automate the process of FPX file retrieval from banks, data validation, uploading of validated FPX files into Zakat Portal (also known at Zakat Collection System), matching of validated FPX files from the bank against the payment receipt in Zakat Portal and lastly the posting of the zakat payment details into Finance system. All these activities was previously done manually by Branch and Hub Services Division.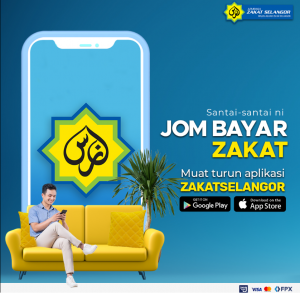 Zakat Cashless project is tied to LZS's Key Performance Indicators (KPI), under the financial perspective. In 2021, LZS recorded zakat collection of RM993millions, which was an increase of 6% from previous year. We are very thankful to all our zakat payees who have contributed to the collection. We believe the accessibility provided for them to make payment via multiple platform utilizing digital platform in order to promote cashless payment has made it possible especially during the pandemic time.
The pandemic reinforced an already growing shift to digital payments and likely drove a three (3) to five (5) year acceleration in their use largely due to the heightened awareness of personal hygiene. However, the benefits derived from cashless extends far beyond hygienic factors. Digital payments are not just convenient, they are more secure and more traceable. Even as in-store commerce returns, contactless payments are likely to remain a constant, as more consumers embrace the streamlined and efficient purchase experience. This shift from cash to digital should have a positive effect on the entire payment ecosystem, but particularly on the first movers that were prepared for a digital payment revolution.
While the benefits are apparent, there are societal costs of going cashless. Since the economically disadvantaged populations often rely on cash, an acceleration towards digital will inherently challenge financial inclusion. As consumers and businesses adjust their payment preferences, the payment industry at large will likely need to continue to provide awareness, choice and access to traditional and innovative options especially to those with financial literacy. We also need to cater for those who were unable to open a bank account due to lack of formal identification documents. Without bank account, they would not be able to join the digital benefits. Another critical lesson to before shifting your business model to digitalization is the consumer/ customer data protection. How business can convince customer that data provided is safe and secured. This may be a long debating topic but it is critical to be looked at, for business to be fully ready in embracing digital.
Participating in Global Digital Excellence Award is our first step towards bringing LZS brand to the global map and demonstrate our support towards digitalization. We truly believe that digitalization not only help in improving our effectiveness and efficiency, but it also open up doors for collaboration, innovation, and experimentation. Being part of the digital community would enable LZS to meet and learn from the experts across the globe, and at the same time sharing our knowledge and experiences with others, especially to the Muslim communities. We are truly honored and humbled to be listed as one of the finalist of Global Digital Excellence Award 2022. This will definitely be a great motivation for us to work harder and smarter to improve our services and achieve our vision to be a leading zakat institution with comparable global management standard.
Website  |  Facebook  |  Instagram  |  Twitter  |  YouTube